Same Day urgent Rakhi Gift Delivery in Kanpur
Online Cake Delivery for Rakhi in Kanpur
rakhi special truffle cake
500gm – Rs. 599/-
1 kg – Rs. 1149/-
rakhi special pineapple cake
500gm – Rs. 449/-
1 kg – Rs. 849/-
choco mocha cake for rakhi
500gm – Rs. 649/-
1 kg – Rs. 1199/-
rakhi photo cake in Kanpur
500gm – Rs. 699/-
1 kg – Rs. 1349/-
Urgent Same Day Online Cake Delivery for Rakhi in Kanpur
500gm – Rs. 549/-
1 kg – Rs. 999/-
extra chocolate cake Delivery
500gm – Rs. 599/-
1 kg – Rs. 1149/-
pineapple cherry cake Delivery
500gm – Rs. 449/-
1 kg – Rs. 849/-
choco mocha cake Delivery
500gm – Rs. 649/-
1 kg – Rs. 1199/-
Online Flower Delivery for Rakhi in Kanpur
cake rakhi combo Delivery in Kanpur
Rakhi lucky combo for Delivery in Kanpur
Rakhi butterscotch cake combo Delivery
red velvet rakhi combo gift for Delivery
pineapple Rakhi Gift combo
flower cake rakhi combo for Gift
warm wishes gifting combo
Online Chocolate Delivery for Rakhi in Kanpur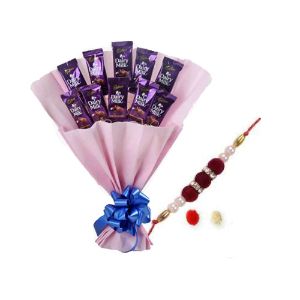 chocolate treat for Rakhi gift
rakhi gift combo delivery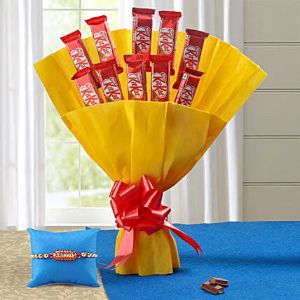 KitKat bouquet with a rakhi
chocolate combo with 4 rakhi
2 chocolate boxes with 4 rakhi
chocolaty combo for rakhi
dry fruits combo for rakhi
rakhi gift hamper with coffee mug
lucky bamboo with chocolates
Best Sweet Shops in Kanpur for Rakhi
Rakhi Gift Delivery in Kanpur
Fairs and Festivals hold a unique worth in our life. They hold a great deal of importance in our lives. We can never miss our Festivals. Celebrations depict our religion and culture. They help us to remember our astonishing past. The Festival of Raksha Bandhan or Rakhi is the Festival of affection and Brotherhood. Sisters attach sacrosanct strings to the wrist of their Brothers, in this way helping them to remember their extraordinary obligation. All over India, Sisters whether they are hitched or unmarried, youthful or old visit their Brothers and tie a piece of embellishing string and consequently Brothers genuinely promise to safeguard their Sisters from all insidious.
The word 'Raksha Bandhan' has an exceptionally critical importance. Raksha implies security and Bandhan implies bond. It is the festival of a pure power of profound devotion and insurance between a Brother and Sister. This Festival represents love and agreement. This event comes in August. According to the Hindu schedule, it is commended on a full moon day. Commonly, this Festival is commended by individuals hailing from the northern and western piece of India. This event is likewise called by various names in various pieces of the country. Certain individuals call this Festival 'Rakhi Purnima', some call it 'Kajri Purnima'. In many states, this Indian Festival is considered as a significant day for ranchers and ladies who have children. On this event, individuals love Lord Shiva. According to the custom, the Sisters set up a thali or a plate with diya, roli, rice and Rakhis. In the first place, she offers supplications to God and afterward attaches Rakhi to the Brothers and wants for their prosperity. The Brother thus recognizes the adoration with a Promise to be by the Sisters' side generally and gives her a Gift as a badge of affection.
As per the Indian customs, this string was not just tied around the wrists of Brothers by their Sisters yet in addition in old times the contemporary ministers tied this monitoring string to the wrists of their lords. According to the Hindu folklore, Lord Indra's better half, Sachi attached an arm band to Indra to safeguard him from the underhanded ruler Bali. So in the western territories of India, the spouses direct this service with their husbands. There are numerous authentic bits of proof, which help us about the importance to remember this Festival and each time this Festival stresses similar qualities, which have been blended alongside the Festival. There is additionally a well established story behind this event. It is said that Rani Karnavati of Mewar sent Rakhi to the Mughal Emperor Humayun imploring him for help from Sultan Bahadur Shah. Humayun acquiesced to the solicitation and he helped her out of the emergency. A Greek woman likewise did likewise to Porus. The last Mughal sovereign Bahadur Shah Zafar requested that Raksha Bandhan ought to be commended with grandeur and show. During the British rule, this Festival in India was commended to advance fellowship and solidarity among all networks. Rabindranath Tagore likewise looked for the mode of Rakhi to stop the parcel of Bengal.
It is accepted that Draupadi once tore a piece of her sari and tied it on Krishna's wrist, that prevented Krishna's draining from a front line wound. Krishna then, at that point, proclaimed her as his sister. Consequently, Lord Krishna safeguarded Draupadi, when she was mishandled by the Kauravas before Pandavas, who had lost her in a betting bet.
Raksha Bandhan or Rakhi additionally tracks down its connects to the introduction of Goddess Santoshi, and the relationship Goddess Laxmi and King Bali divided between numerous different tales of comparative nature. There is likewise a conviction that Raksha Bandhan or Rakhi was even trailed by Lord Yama (God of Death) and his sister Yamuna (waterway). Yamuna attached Rakhi to Yama and gave eternality.
Anything be the narratives or fantasies related with the celebration, it is praised with full enthusiasm with a smidgen of present day patterns. The significance of Rakhi isn't restricted to average folks and their families, even legislators think about this celebration as a significant practice. Consistently huge number of Rakhis are shipped off President, Prime Minister and noticeable characters the nation over.
The satisfaction and energy to praise this Festivval in India is seen a few days before the Festival. The business sectors are loaded with lovely shaded Rakhi. Nowadays, it has turned into a taking off business. Many retailers' only business is trading Rakhi. The business sectors are decked like a lady of the hour, all vivid and magnificence. There are assortments of Rakhi accessible in the market going from low to high. The Sisters purchase Rakhi and tie them around the wrists of their Brothers alongside roli and rice on their temples. They wish for the success and long existence of their Brothers and consequently, Brothers take a commitment to safeguard their Sisters and guarantee them, monitor, during any emergency. For all families, the Raksha Bandhan Festival is a method for family association. Scrumptious food, desserts, and so on are cooked on this propitious day. Relatives likewise trade Gifts with other great wishers and family members and offer their singular encounters of life. In certain customs particularly in Rajasthan, the wedded ladies attach Rakhis to their spouses to look for assurance from all abhorrent. Nowadays even Sisters attach Rakhis to Sisters. In any case, the embodiment of the Festival continues as before.
We don't own the copyright of this video, this video is just for information basis.
Kanpur Central (previously known as Cawnpore North Barracks, station code: CNB) is a focal and intersection railroad station in the city of Kanpur and is one of the five focal Indian rail line stations. It is third most active in country after Howrah Jn and New Delhi rail line station. It is a significant rail line station between Howrah Jn and New Delhi. It additionally holds the record for the biggest interlocking course framework on the planet. All trains going through this station stop here, including premium trains, and all superfast, mail and traveler trains. The station is a significant intercity rail and suburbanite rail station in the locale. Other significant rail line stations in the city of Kanpur will be Kanpur Anwarganj, Govindpuri Terminal, Panki Dham rail route station, Rawatpur rail line station, Kalyanpur rail route station, Chandari, Chakeri, Mandhana Junction, Bithoor, Rooma, Bhimsen Junction, Sarsaul, Kanpur Bridge Left Bank and Old Cawnpore Junction.
Kanpur Central has gone through a beautification and modernisation exertion lately, particularly following the consideration of the station in the "50 World-Class Railway Stations" spending plan, which looked to modernize Indian rail route stations, by previous Minister of Railways Mamata Banerjee. These endeavors basically incorporate the improvement of administrations proposed to clients and the redevelopment of existing highlights, for example, the establishment of another stage surface at stage number one. The ongoing period of improvement is basically centered around the tidying up of the side of the station confronting the city, with ₹15 million being planned to go towards the undertaking. A food square is assigned to be based on the subsequent floor and two new vehicle leaves are likewise being proposed.
As per a NCR report the station needs no less than 10 additional stages to help the steadily expanding traveler sum. As of now, the re-displaying work is continuing gradually, however senior NCR authorities are confident of staying faithful to their obligations.